Kaftan
A Kaftan is famous in several cultures worldwide. Kaftan refers to a style of men's long suit with tight sleeves. Many people use in West and Southwest Asian ethnic groups made of wool, cashmere, silk, or cotton and worn with a sash.
It is elaborately designed for ambassadors and other significant guests at the Topkapi Palace. Variations of the Kaftan inherited by cultures throughout Asia were worn by persons in Russia, Southwest Asia, and Northern Africa.
Depending on the culture, the styles, uses, and names for the Kaftan vary. The Kaftan is worn as a coat, or an overdress, usually having long sleeves and reaching the ankles.
In regions with a temperate climate, it is worn as a lightweight, loose-fitting Kaftan. In some cultures, the Kaftan has served as a symbol of royalty.
History of Kaftan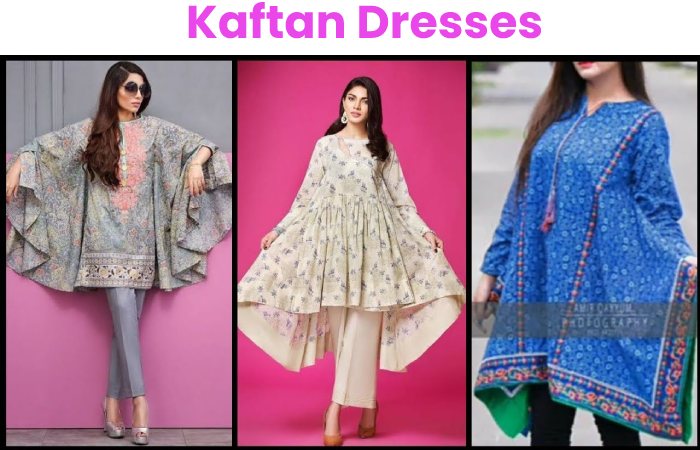 This fashion awakes quite early among Arabs under the influence of Persian fashions. The word kaftān is used in Arabic, just like in Persian.
It is described as a long robe as far as the calves sometimes or just under the knee. It is open at the front, and the sleeves are slightly cut at the wrists or even as far as the arms' middle.
The best thing about Kaftan is that it is loose and can be worn with a belt in the waist area, which helps us to highlight this part of our body. Thus, the Kaftan is a very flattering garment for any figure.
If you are thin, you can choose to emphasize the hip or waist area to generate volume in your silhouette.
Secondly, if you want to hide curves, you can opt for a looser kaftan, choosing whether or not you want to highlight the part of your waist.
It has different openings to be more discreet or more striking depending on its neckline or the lower opening.
Pregnant women can also choose to wear a kaftan during the summer, as it will be a very cool garment, while they can choose if they want to wear it wide to hide the belly or narrower to emphasize it.
Either way, they can opt for a kaftan during the day to go to the beach or for a walk or one at night, which will help them create a more sober and elegant look.
How to Wear a Kaftan
There are different models of Kaftan in stores.
The more traditional ones in specialized stores are in which the inspiration of the Kaftan to create a similar dress adapted to our tastes.
The short dress in a more informal way and during the day. The long Kaftan, however, seems more suitable to wear at night.
In addition to its cut, they will be better for summer nights. It tends to cool, so a little more fabric will not look as striking as if we were wearing it during the day.
The short Kaftan combine with flat or high-heeled sandals, depending on whether we go to the beach, which we will need the most comfortable ones, or if we will have a drink or eat, which we can put on some heels.
The jewels are very friendly to this elegant garment, so try to choose those that match the colors of your Kaftan.
However, try not to go overboard when it comes to jewels, as you will detract from the striking effect of the garment, and it will seem that you are wearing a perhaps too ornate style.
Makeup with Kaftan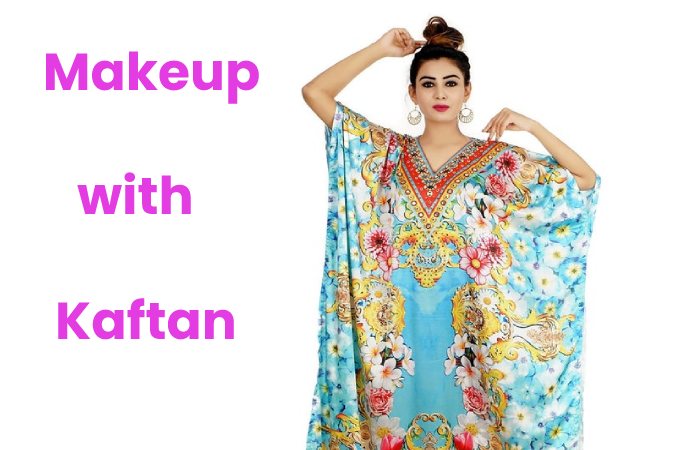 You must wear mainly high heels. Long dresses can make you appear shorter, so high heels will help you visually lengthen your legs and complete the evening look.
As for jewelry, at night, we can do the same as during the day, put on those that we think to go well with the Kaftan, but remember that too much jewelry could create a too ornate and inelegant look.
Tips to Choose Best Kaftan Dress
When buying your modern Kaftan dress, consider the color codes in the assortment of your shoes and accessories. Choose the color that flatters you while considering the color of your hair, eyes, and skin.
It is often advisable to discreet colors such as turquoise, pink, grey, blue, or white to show off.
The soft romantic and pastel colors are in the headlines in the collections of modern dresses during Winter. The contrasts will make you even more beautiful.
Finally, you have to find the balance between elegance and sobriety, whatever your choice which is suitable for almost any occasion.
The modern kaftan dress with a wide belt when you want to camouflage a small belly to obtain a flat stomach effect.
The ideal way for wearing a dark-colored belt with your modern dress gives you an assured corset effect.
It is advisable to wear a modern lace dress when you are thin.
The modern dress with princess cut when you want to camouflage strong and voluminous hips or thighs. Modern kaftan dress with princess cut will harmonize your body with complete discretion.
The oriental sleeveless ceremony dress used especially during the summer period. You should avoid wearing a sleeveless oriental ceremony dress in Winter.
In addition, you should avoid wearing a modern Kaftan dress or sleeveless takchita when you have plump arms or when you are of a certain age.
You can wear an oriental ceremony dress worked at the bust level when you have a small chest. This style of oriental ceremony dress will bring volume and give the impression of a more generous chest.
For an oriental wedding, you need to put on an oriental ceremony dress suited to the wedding style.
Conclusion
Women always dream of finding a special dress. With online stores, you can make your dream come true.
Select the model that flatters you from a wide range of models of new trends. Send your measurements, and finally order your dream Kaftan dress, which suits you best according to your figure.
It is best to choose your wedding kaftan dress according to the ceremony's theme. We advise you to bet on colors that are both bright and warm.
Also Read: HAIR COLOR – DEFINITION, 10 TIPS, HOW TO APPLY?, TYPES, AND MORE