Definition of Eye Shadow
Eye shadow is a material that you can paint on your eyelids to make them a different color. Eye shadow is the dress of the eyes.
It sculpts it, gives it depth, intensifies it, or, on the contrary, softens it. It adapts to the style you want to adopt for an evening or your daily life.
Shades of Eye Shadow
Cool Shades
Blue, mauve, grey, pink
Hot
Orange, red, brown
Makeup Technique of Eye Shadow
It is essential to know that several techniques of Eye Shadow exist and are applied according to the morphology of our eyes, our tastes, and our age.
Start by applying a light color over the entire surface of your eyes, up to the eyebrow.
Apply the color of "medium" intensity to the crease of your eyelid, the area between the mobile eyelid and the brow bone.
Superimpose "dark" color on the latter, but in the outer corner only
Add a point of light in the inner corner with a light-colored eyeshadow
 Finish with the application of mascara to your liking.
How to Choose Eye Shadow?
1. Dark complexion
Often women with dark skin love gold, copper, and earth shades because these colors give the illusion of a brighter look
2. Pale skin
On the other hand, porcelain-skinned women tend to wear black, pink, mauve because these colors highlight the clarity of their skin by creating a contrast of colors.
3. Neutral makeup
Despite all these tips, natural and neutral shades of makeup are suggested for most skin tones.
How to Apply Eye Shadow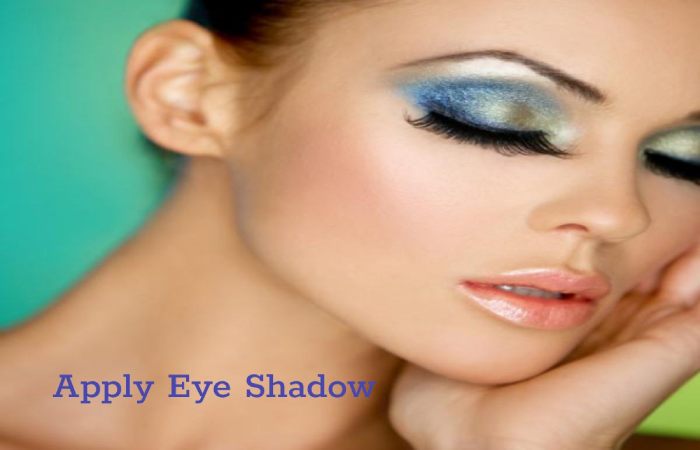 Always start eye shadow with the lightest color and apply it all over the upper eyelid (up to the eyebrow).
Then apply the darkest color from your palette, only in the outer corner of your eye (this area represents about 1/4 of your total eye area). Do not overflow outside; it is not necessary.
Now apply the third color, lighter than the second but darker than the first, and also you should place it just above the crook of your eye by joining the dark color already present in the outer corner of your eye.
This third color will make up about a third of the total space on your eyes when applied.
Touch up the light (with the pale color) near your eyebrows as needed.
Types of Eye Shadow
1.Contour Pencil
Draw a thin and delicate line so as not to hide the light near the lashes. In addition, the line must stop at half of the eyes to give an opening effect.
Creamy Eye Shadows
Cream textured eye shadows seem more convenient to apply. In reality, this type of product is more challenging to work with than powder eyeshadows.
More affluent in oil, these eyeshadows will tend to move during the day and form small clumps in the eyelid folds.
The highly pigmented base will give your makeup more intensity, and mixing with the powder will allow you to hold your daytime makeup better. Cream eyeshadows are generally long-lasting; they can last up to 10 hours without moving.
2.Pencil Eye Shadows
Pencil eye shadows have the advantage of being easy to apply and do not require a brush. Many models exist; it's up to you to find the one that suits you best.
Among the existing formats, you will find eyeshadows in a creamy formula tube sharpening a pencil with a compact texture, in stick, with an integrated powder diffuser nozzle.
For an express touch-up during the day, this type of makeup should always be in your bag. Choose the eye shadow that best suits your application preferences.
And also, think about eye primers to keep your eyeshadows last all day.
3.Compact Eye Shadows
It is the classic blush present in all makeup bags. In individual packagings or palettes, the compact eyeshadows are distinguished by their efficient formats. Indeed, you can take this type of product everywhere.
For a nude effect or glamorous evening makeup, you will find the eye shadow palette adapted to your desire in all beauty stores.
Beware of the risk of falling, an accident can happen quickly, and when this product breaks, your kits end up flooded with loose powder.
4.Powder Eye Shadows
Firstly, eye shadows in the loose powder form are more concentrated in pigments. These products, therefore, promise you a more intense rendering and well-accented colors.
To apply a powder eyeshadow, use a brush and apply the material by tapping on the skin. Due to the lightness of the product, you risk losing powder quickly when applying it.
The use of makeup base on your eyes, therefore, seems essential. You can also finish your makeup by sprinkling a fixing spray all over your face. Intense and long-lasting results guaranteed!
5.Matte Eye Shadows
These eye shadows give a more natural finish. They blend in less, and errors or inaccuracies appear more. They, therefore, require more excellent dexterity and greater mastery of technique.
Matte eye shadows are ideally suited to daytime makeup, but they also allow you to make a lovely "smoky" evening makeup.
6.Iridescent Eye Shadows
The iridescent eye shadows contain mother-of-pearl. They are creamier, and therefore more adherent than matte eye shadows.
And also, they must be worked in small quantities to control the desired effect and obtain a homogeneous makeup.
You can use a matte base in light tones or even neutral and add an iridescent shadow on the eyelid.
What Colors Harmonize Best with your Eyes?
• Blue Eyes: Orange is the color that highlights the most. In the same tones, eye shadows in warm colors, such as coppers, peach pink, beiges, etc., are also excellent choices.
• Green Eyes: plum is your color! To make a splash, use shades of purple, mauve, and burgundy.
• Brown or Black Eyes: All colors look great on black or brown eyes; avoid pastel colors. As the objective is to illuminate eyes, do not hesitate to go for iridescent or metallic eye shadows.
Conclusion
Eye shadow is not your only tool for applying makeup to your eyes. Mascara and eye pencils are also available in different colors to adapt to strengthen your look and make your eyes stand out.
The best way to use kinds of eye shadow is to apply it as a base on the eyelids with the pulp of the finger. Then apply another powder shadow with the brush, tapping lightly to fix the whole.
Also Read:  MANICURE – DEFINITION, STEPS, TYPES, ADVANTAGES, DISADVANTAGES, AND MORE