Master Bedroom
The master bedroom is currently one of the rooms where more life makes, not only in the private sphere since it is where you work, have breakfast, Rest and watch television. Therefore,  it is necessary and pleasant to quickly change from time to time to look new and give us happier dreams.
How to Renovate the Master Bedroom Without Worker?
1. Special Parts
Bedside table or table? Both! Bedside tables can have many faces and offer an added style to the master bedroom, as in this Novamobili proposal.
Before buying, take a look at the auxiliary furniture you have, recover that lost stool that you never use or that box where you never keep anything.
Being daring and original has a prize: the award of personality.
2. Wallpaper
We have long surrendered to the allure and transformative power of wallpaper. Therefore, it is one of those decoration resources that could not be missing in this makeover of the master bedroom.
As in painting, you can wallpaper the entire room or just one wall, typically with the headboard.
Diversity is the name of the collection designed by interior designer Patricia Bustos for Tres Tintas. A hymn to diversity and freedom, full of geometry, light and beauty. Much beauty.
3. A Bed with a Plus
The bed is the undisputed queen of the bedroom, both functionally and decoratively.
Therefore, when choosing it, you should always consider aesthetic reasons (style, material and design) and practical: from the right size to your personal needs.
This Kibuc model is ideal for all those who need extra storage space, like a shelf, and do not have meters to spare.
4. An Upholstered Model
If you have already tried to renew the auxiliary pieces and fabrics in your bedroom, have placed plants and created a charming reading corner, and you still do not see a current and new space, perhaps it is time to change the bed.
This upholstered model from Trek combines beauty and ergonomics. In addition, you can choose between three textures for the upholstery of the base and a wide variety of colours.
5. An Artistic Touch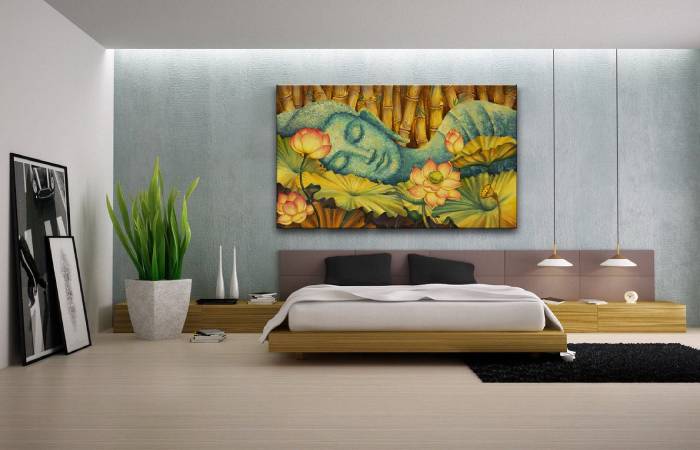 Paintings, posters and photographs are your best allies when it comes to personalizing and decorating the walls of your bedroom.
You can choose a large model that acts as a headboard or design compositions like this one from Desenio.
If you decide on this option, remember to choose a common thematic link or play with the frames' shapes and colours; if there is a larger one, centre it to achieve a balanced and harmonious result.
6. Some Curtains to Create Atmosphere
No need to close the blinds. The curtains and blinds, each window and space need to dress.
They are convenient daily, as they help you create the atmosphere you need at all times.
At the same time, they decorate with their mere presence, especially if they are so striking and original like these.
In addition, this room with Redd Kaihoi wallpaper has everything to succeed: unique pieces, mirrors, canopy, carpet.
7. Sheet Metal and Paint
Sometimes a simple facelift can make everything look different.
Painting the bedroom walls in a different colour will allow you to have a new stay, without getting rid of your usual bed.
The light ones are more serene and relaxing, and the dark ones are more daring and inspiring, but you must select the one with which you feel most comfortable when choosing your ideal tone.
A less radical option, but also very effective, is to renew only the headboard wall.
If you want to follow the trends, you need a handmade and textured finish, such as lime mortar.
8. Exclusive Editions
Not all furniture can 'lift' a bedroom and make it the perfect place to dream, rest and watch life go by, but the Indira collection by Banak Importa is one of them.
Made of solid wood and with plant and floral shapes carved by hand, they are halfway between Indian crafts and French 'art nouveau'—a delight, with an expiration date, since it is a limited edition.
9. Magic Mirror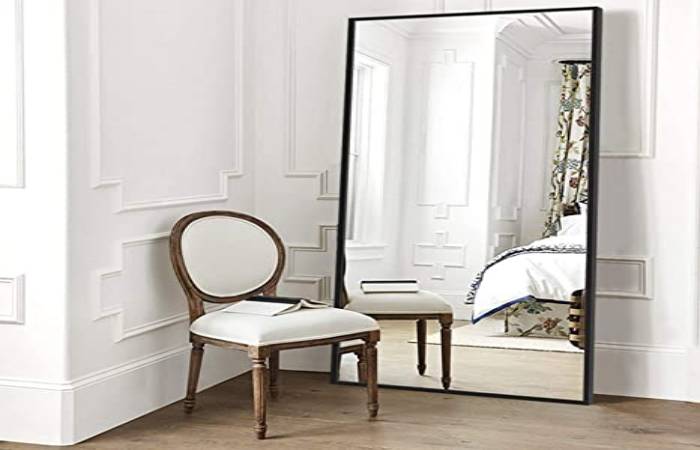 The mirrors are allies of the lack of meters and light and a resource full of possibilities 'deco'. Correctly placed, they will make the room appear larger and brighter.
At the same time, they will allow you to look at your 'look' or face and check if the result is as expected.
You can bet on a full-length one in the dressing room corner, place one in the vanity area, or create a decorative composition on the headboard wall.
10. Bedding that Invites you to Rest
Changing sheets, covers and pillows is a quick and efficient option to transform your bedroom into another in a matter of minutes, without the need for large outlays.
Before choosing the motif and colour, remember that the textiles used for the bed must be of quality and, preferably, made of natural fibres, such as cotton, and that the fabrics are as crucial as the way they create.
Also Read: SALT LAMP – DEFINITION, BENEFITS, EFFECTS, DISADVANTAGES, AND MORE