Let's face it. Sometimes you don't have time to wash your hair. Greasy hair can be an annoying and embarrassing problem for many, especially if you have an important event or meeting to attend. It can ruin your hairstyle and make you feel self-conscious.
Oily hair is caused by overactive sebaceous glands, which produce excess sebum. It can happen because of hormonal changes, stress, diet and over-washing. The excess sebum can make your hair look slimy and flat.
Source: buritora/Shutterstock.com
Fortunately, there are several ways to style oily hair and make it look great. You can make your shiny hair look stylish and attractive with the right products, tools and techniques. Rock your look and feel confident with this how-to-style greasy hair guide and how to prevent it in the first place by using a shampoo bar.
1. Sleek Side Bun
A sleek side bun is a great way to style greasy hair; it looks stylish and helps hide fatty roots, making your hair look polished and put together. Follow the steps below to get this look:
Step 1: Start by separating your hair into two sections.
Step 2: Take the top section and pull it back into a high ponytail at the crown of your head.
Step 3: Secure with a hair tie.
Step 4: To create the bun, twist the ponytail and then wrap it around the base of the ponytail.
Step 5: Secure with bobby pins.
Step 6: Use a little hairspray or gel to keep the bun in place for a sleek finish.
You can also use a few more bobby pins to secure any flyaways. Add a few hair accessories like a headband or a pretty hair clip to complete the look.
2. A Fresh Look Using Natural Dry Shampoo
Natural dry shampoo is a great way to refresh greasy hair without washing it. It absorbs excess oil, resulting in a cleaner and fresher look. Natural dry shampoo is full of hair-loving ingredients. You can find it for dark or light-colored hair, so you can choose the one that best suits your hair type. To use dry shampoo, follow the steps below.
Step 1: To use an eco-friendly dry shampoo, sprinkle a small amount onto the roots of your greasy hair.
Step 2: Gently massage the powder into your scalp and brush your hair to distribute the product evenly.
Step 3: (Optional) Use a blow dryer to help the powder absorb the oil and to help your hair look less shiny and more voluminous.
Natural dry shampoo is a great way to freshen up shiny hair quickly and easily. It's free of harsh chemicals and can be used on any hair type. Plus, it's affordable and easy to find in most stores.
3. Double Dutch Braids
If you're dealing with oily hair, try double Dutch braids. A Dutch braid brings the hair under the other sections, while a French braid brings the hair over. This hairstyle is a great way to add style to your hair if it's been a little too long since your last shampoo. It's a perfect option if you're looking for a low-maintenance look that will last all day.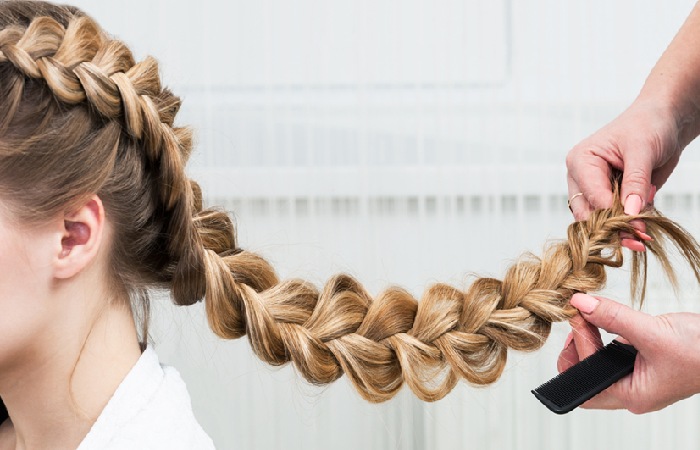 Step 1: To get the best results, brush your hair back and part it into two sections to have two even braids.
Step 2: Take the hair from the front of one side of your head, divide it into three even parts and start braiding. Whenever you bring a section under, pick up more hair.
Step 3: When you reach the end, repeat on the other side until you've braided both sides.
Step 4: Tie the braids with a clear elastic band, and tuck the ends under for a finished look.
This can be a great style to mask lifeless, unwashed hair. This style is suitable for all hair types, and you can easily dress it up with accessories to make it look more formal.
How to Prevent Greasy Hair
A shampoo bar is an excellent way to deal with oily hair, as they are designed to target and combat oily hair. Shampoo bars are made with natural ingredients like herbs, essential oils and plant-based oils, which gently cleanse the scalp and hair while helping to reduce sebum production. These bars are also formulated with conditioning agents that help hydrate, nourish and strengthen the hair without adding oil or weighing it down.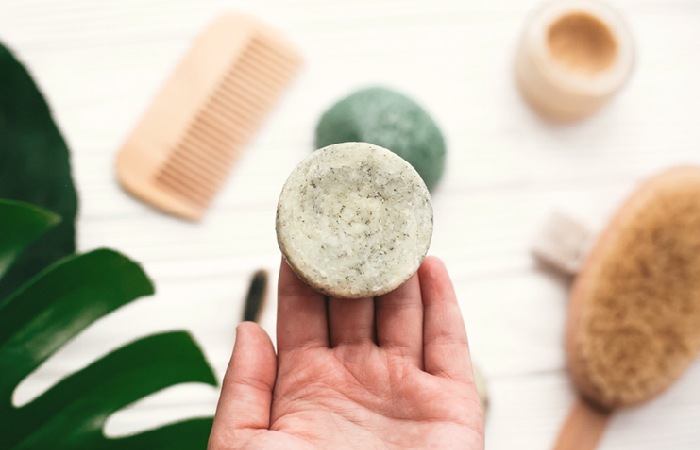 A conditioner bar can also help stave off the oily look. The mild ingredients in the conditioner bar help reduce the hair's greasiness while keeping it soft, manageable and full of shine. Simply rub the conditioner bar to the ends of your hair and work it in. Conditioner bars can be used on all hair types, from fine to thick and curly.
Stay Fresh and Stylish
Greasy hair can be a hassle, but you can make it look stylish and attractive with the right products and techniques. From double Dutch braids to dry shampoo, there are several ways to style unwashed hair and look great. With these tips and tricks, you can keep your naturally oily hair looking fresh and stylish every day.