What is Sustainable Fashion?
Sustainable fashion typically provides social, environmental, and economic benefits throughout the entire manufacturing process. Many brands and retail stores are trying to improve their brand messages to include sustainable and ethical practices. It is a significant value for today's customers when buying.
Fashion designers experiment with ecological materials, such as apple skins, fabrics made with mushrooms, even with piñatex, a natural alternative to leather made from the fibres of pineapple leaves that have thrown such it could see in the Berlin fashion week.
Shoppers also opt for second-hand garments to alternate with fast-fashion (also called throwaway) garments. Every change counts, no matter how small, to save our planet. Here we give you five tips with which you can contribute to sustainable fashion
5 Tips to Contribute to Sustainable Fashion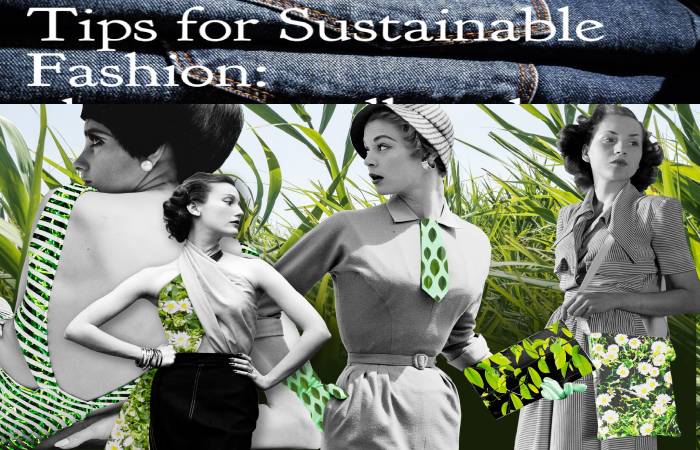 1. Fewer Garments, more Quality
It is better to buy less quantity but of better quality and that lasts longer. You can purchase fast fashion garments that are mass-produced.
However, fashion changes very quickly and the method of making these garments and their disposal is not suitable for the environment. Think about the fundamental clothes that should always be in your closet.
Take a look at the timeless clothes to get your own or make a list of your own.
Timeless items should always include both formal and informal clothing, such as a suit, a white T-shirt, jeans, a neat but informal jacket, and a black dress that you can wear during the day and into the evening.
The idea is simple: you can mix and match the clothes in your wardrobe to create different outfits. For example, you can match your retro t shirts with jeans or trousers for your everyday style.
2. Try Sustainable Brands
When you can, choose sustainable brands. They may be a bit more luxurious, but it's worth paying more for minor environmental damage.
By selecting green brands over cheap and less ethical brands, you help workers earn a fair wage. Some sustainable brands are Boden and H&M Conscious, among others.
Stella McCartney recently revealed the first fox fur made with Koba, a 37% plant material: "it is the first eco-friendly synthetic fox fur."
3. Buy Second-Hand Clothes or Trade Clothes
Hosting a clothing swap in your area is a fun way to recycle your trendy clothes. Please invite your friends and family to your house or organize it in the town hall.
Exchange the garments that you no longer want for others that do.
You have no more! Buying second-hand clothes or donating clothes to charity shops is a great way to be a responsible consumer and also supports a good cause – we all win!
4. Recycle and Fix Old Clothes
Take care of your favourite clothes to make sure they last longer. Fix them or find an excellent sewist to help you.
If you shop, go for high-quality vintage garments rather than mass-produced modern garments. Recycle Old Clothes: Turn those old clothes into something you can wear.
For example, old jeans can use to make shorts for summer.
The important thing is to appear at the age of your clothes and how you take care of them, choose clothes that you love but cannot wear and think about how you can take advantage of them.
5. Change your Habits
Look for news on sustainable brands and trends. Join an ecological group where you can exchange ideas and be inspired.
Sustain Your Style is an excellent fashion platform featuring only sustainable brands.
Knowing the brands and having more information on the subject will help you make better decisions when buying.
The Forerunners of Sustainable Fashion
1. A Root with a Lot of Meaning
What does the term sustainable mean? Has it occurred to you to look it up in the dictionary? Have you looked up synonymous words?
I have done it, and how curious because the word sustainability, which comes from sustaining, is nothing more than holding, supporting balancing forces. That's what sustainability is about, maintaining the balance of a system.
The Acciona company defines very well the meaning of sustainable development. They understand it as one that meets the needs of the present without compromising the capacity of future generations.
2. The Economy, always Ahead
I tell you another curiosity that will help you understand everything, where the concept of sustainability first use was in economics.
They were looking for a term to refer to the development model to which our society should aspire, and the word sustainability met the objectives perfectly.
The NGO OXFAM Intermón defines very well the keys to economic sustainability in this article.
3. A Woman Against the Tide
To produce a change, you have to do something differently. Do you disagree? This is what a restless English woman did.
In 2007, the concept of Slow Fashion was born by the hand of Kate Fletcher. Activist, writer, lover of nature and life, as well as an entrepreneur. Theirs, of course, was not to go with the flow and became a pioneer.
Kate argues that it is possible to produce clothes and dress responsibly. The key, he tells us, is to use design to promote social change.
A hopeful revelation that you can find out in more detail in this Slow Fashion Next article about Kate Fletcher.
4. Fashion Revolution
Surely you have already heard of this movement, founded by carrying Sommers, Orsola de Castro and Lucy Siegle after the Rana Plaza disaster.
No one expected – or perhaps no one wanted to see it – that April 24, 2013, and the 8-story building would collapse in Dhaka, Bangladesh. A tragedy that ended with the death of 1,135 workers and 2,500 wounded in the textile sector.
From that moment every year, Fashion Revolution Day is celebrated. A day to channel concern about the situation in the fashion industry.
The 3 Key Elements for Sustainable Fashion
In general, we associate sustainable fashion with caring for the environment, but ethical fashion is not just eco-friendly fashion. To guarantee the balance of any element, we need three pillars to support it.
The three critical elements for sustainable fashion are: caring for the environment, social welfare and economic growth. Ok, okay, but how do we get your shirt to meet those criteria?
We'll see that in a moment, but first, let me know if I can give you a definition.
Packing and Transportation of Sustainable Fashion
Any single-use item generates waste and therefore pollutes. Packaging is an excellent example of this. Hence, designing recyclable or reusable packaging is also key to sustainable fashion.
This is another avenue of innovation, creativity and development.
By packaging, I mean that bag that wraps the sweatshirt. Also, to the box in which it arrives packaged at your home.
I said, come to your house, and I think I'm not wrong. We go out less and less to buy. We buy with a click of the mouse, and wow, shortly after, the courier is at our door. It almost seems like magic.
Sorry, it's not magic, and it also pollutes. Transportation is another fundamental factor to take into account to reduce pollution.
The greater the number of kilometres, the greater the corruption. One solution is local production and commerce versus offshoring.