What is Market Trends?
Market trends call the trend in which a market moves in a particular direction in an interval of time; it is called the primary trend to what corresponds to the long term, intermediate for the medium term, and immediate for the short term.
Technical analysis uses to identify market trends, a study that characterizes market trends as a predictable response of market prices at price support levels and price resistance that varies over time.
The terms bull market or bull market trend and bear market or bear market trend describe upward and downward market trends, respectively, and can be used to describe both the market as whole or specific sectors and stocks.
The Top 10 Market Trends of 2021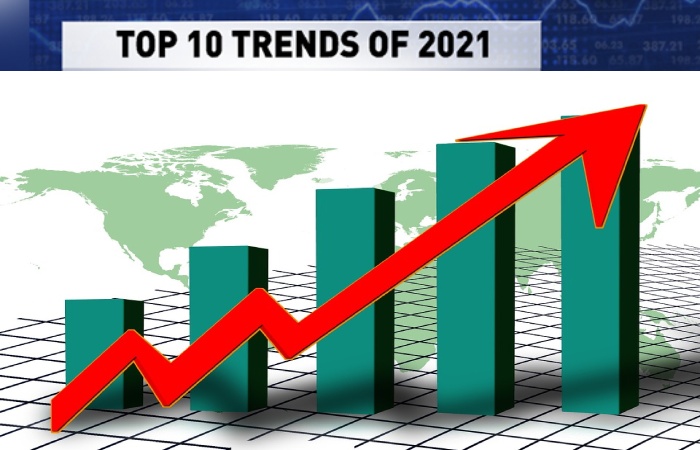 1. Health Care
Health and business health are the priority throughout the world, so all businesses related to this purpose will have better reception, primarily focusing on reducing social inequality regarding access to quality medical services.
Due to this trend, people seek to generate healthier habits such as a better diet and exercise of all kinds.
For example, the use of fitness apps has exploded in the last year. People are aware now more than ever that taking care of their health is the most important thing.
2. Protection of the Environment
Many of the consumers are focused on caring for nature. They are mainly interested in changing climate change and the excessive use of plastic that current life forms have generated.
It is a growing trend that will reinforce in 2021.
People will prefer products that make in a sustainable way for the planet. If your company did not seek to engage in practices that follow this trend, it would lose many of its sales to change those habits.
3. Resilience and Mental Health
Due to the uncertainty and social isolation generated since the beginning of the pandemic, mental illness is becoming more and more frequent.
According to the WHO, 67% of 130 countries surveyed commented that their mental health services were affected (due to the pandemic).
That is why it is time for all brands to reassess their priorities and promote resilience and a fuller life among people.
All people are going through new and complex situations, so incorporating understanding and solidarity into your brand will significantly add value.
4. Outdoor Activities
People miss the great outdoors after so much time in isolation. The reopening of many businesses is being carried out thanks to the open areas.
People are also looking for recreational activities amid the landscapes of rural areas.
Coupled with the second point on this list, the sale of gardening supplies has increased considerably. More and more people prefer to have plants inside and outside their homes.
5. Combination of the Physical and the Virtual
This year's goal will be that all activities in real life can also do virtually within the home with the help of artificial intelligence.
It intends to create virtual experiences for consumers that promote and differentiate electronic commerce through augmented reality.
This market trend also aims to make the purchase process in physical stores easier and safer through digital tools to improve the customer experience.
Cell phones play a vital role here, as voice orders, payments, and dynamics with QR codes will become more and more common.
6. Flexible Services and Support
People focus on making the most of their time for themselves, so it is not on their plan to spend it to solve problems of products and services acquired.
If the customer service area of your company is well structured, it will have significant advantages.
And as consumers' schedules have become more flexible, the ideal is the 24-hour service modality.
This way, your business will have more sales opportunities and fewer possibilities for customers to change suppliers.
You should also analyze a more accessible physical location for your stores.
7. Informed Consumers
With the changes that have occurred, people have become very interested in political and social issues. Consumers actively participate in these topics.
They look for content. They want to give their opinion and belong. In the digital field, users focus on cybersecurity, especially privacy and data management.
For this reason, they usually make a detailed analysis of the products and services provided. Brand reviews, options, reputation, and ratings are critical to a business today.
If one of the consumers is not satisfied or finds a mistake, they will not hesitate to make it public, so take it into account and act to be prepared in case of a problem.
8. Safety and Hygiene
Market trends indicate that consumers are looking for clean spaces and avoiding contact with other people to prevent COVID-19.
So if your business complies with all the hygienic security measures, they will feel much more comfortable.
In addition to the internal and external sanitation of the establishment, you also expect to take measures in the parcel delivery service.
Similarly, people are very interested in personal hygiene, so the sale of these products is increasing.
9. Conscious Saving
The financial health of consumers has also been affected by the pandemic. In response, many people are rethinking their expenses to save as much as possible.
So they are very aware of the quality and price ratio of each of the products they buy.
They will only purchase plus or premium services if they generate a benefit over the standard offer, and they will think twice if your brand is not committed to health, sustainability, safety, and hygiene.
10. Adaptation to the Home Office
Working at home has become quite normal nowadays; not only school classes but many procedures and purchases are also now online.
People are looking to balance their work, family, and personal life since the boundaries between one and another within the home seem to mix.
So many resources that can help them in their work are welcome. Be it an organizational program, training or productivity course, stress reduction methods, and the like.
Now that you know the trends, we will give you some tips to use them within your company.
How do Market Trends Emerge?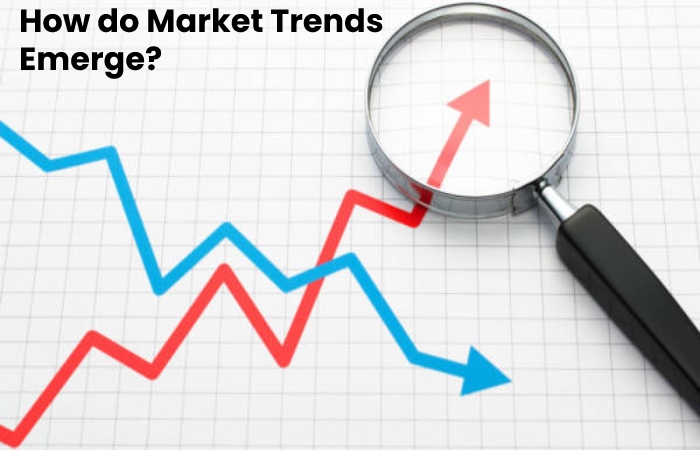 This is undoubtedly an excellent question. Answering it efficiently and profitably requires constant focus, effort, and attention and a deep awareness that trends are volatile and can change at any time.
If you need to get ahead of your section and differentiate yourself from increasingly fierce competition, you certainly need to commit (and dedicate yourself) to identifying trends. That is why, now, we will help you see some of the common aspects in the emergence of them.
There are two ways for a trend to gain space in practice – one of them is slightly controllable, while the other is not guided, in principle, by deliberate interference. It is precisely to influence these market actions that brands often invest in research.
1. Investing in Research
When a business dedicated to analyzing consumption data, identifying possible profiles and new preferences.
It is natural to apply the knowledge acquired – after being treated and weighed, of course – to products and services that have value for the public of interest.
In this way, acceptance gains support, and business results expand. It is undoubtedly an excellent example of applied research to identify market trends!
2. Search for your own Audience
There is also another side to this situation. Many times, consumer demands not to capture by evaluative instruments.
It may be that specific behaviour, no matter how relevant it may be, goes unnoticed by scholars and companies dedicated to capturing new market trends.
In this case, the public's search points the way to a new market niche – and it is up to entrepreneurs to act quickly to seize opportunities that arise.
Although different (and an attitude), the two situations highlight the importance of proactivity in the business context.
To identify or take benefit of market trends corresponding to the demands of a consumer who wants it all here.
And now, it is necessary to be prepared to deliver valuable solutions in a short space of time.
Therefore, if you want to reinforce your brand and conquer your space, always pay attention to the rise of new positions and behaviours.