Faiza Beauty Cream Definition
Faiza Beauty Cream removes the Pimples, Wrinkles, freckles, spots and acne Problems and will make your face very attractive & brighter.
This Beauty Cream also removes the black eyeshades after few days of use. This Beauty Cream consists of purely natural ingredients.
Usage of Faiza Beauty Cream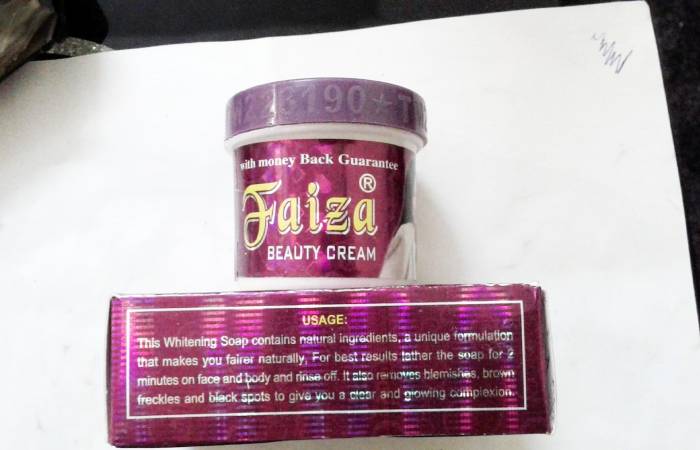 Before use washes your face with any Faiza Beauty Soap, use Faiza Beauty Cream to apply just a tiny amount of Faiza Beauty Cream after drying your skin.
When retiring at night, do not rub the cream in just part it on the surface.
The Ingredients of Faiza Beauty Cream
Ionized Water, Cetyl Alcohol, Vitamin A, Vitamin B, Vitamin E, Vitamin B3, Citric Acid, Methyl Paraben, Propyl Paraben, Zinc Oxide, Natural Wax, Vaseline, White Oil, Kojic Acid, Natural Colors, Fragrance.
The ingredients mentioned on the wrapping had numerous misspellings, and in the end, I had to Google around to find the actual ingredients.
Review on Faiza Beauty Cream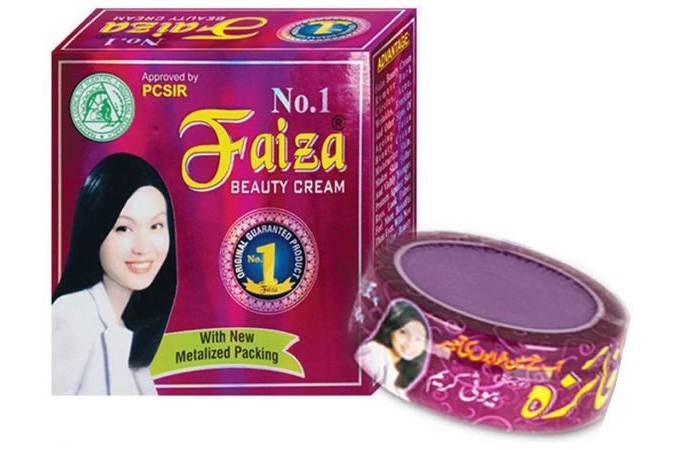 You may have come across numerous reviews on the internet about Faiza beauty cream, but none of them shares any experience with this cream in reality.
I was surprised to get a guy to post some comment on this cream, which was nothing more than a mere attempt to gain traffic on the internet. And earn some commission through eBay and Amazon platforms.
Please trust only those who have an authentic experience with these types of beauty products. Let's go back to my opinion on it. The cream is not mentioned anywhere on the packaging, whether it is a day or night cream.
I thoroughly checked the packaging, and the only thing I have to know about this cream was, it was a whitening cream, and that's it!
It is the responsibility of all manufacturers to mention. As there was nothing written on the packaging, it was my duty to examine the cream texture and formula and decide how to use it.
Due to the attendance of petroleum jelly and natural wax, I found it a bit greasy.
So people with dry skin must use it as a day cream, and someone with oily skin should use it as a night cream.
The cream touched more like a bleaching agent with a bit of fragrance thrown into it to add a bit of luxury, or should I tell people false alarm.
So after some investigation, I decided to do a little experiment on my own with this cream. I never use any new creation directly on my face. In its place, I try it on my neck or hands first, and after few suitable applications, I go for my facial skin.
I think it is the best way to test skin products, and I recommend it to everyone before trying any new skin products! I have tried this cream for two weeks only on my hands.
And couldn't go any further because the cream started to show some harsh belongings on my skin.
Side Effects of Faiza Beauty Cream
I have tried this cream for only two weeks, and not knowing about any long-term use side effects, please do not try this experiment on your skin.
The cream claims to lighten the skin colour, but no change in the appearance of the test area find on my skin.
There is an absurd feel to this cream that gives a slight burning sensation on application. The cream caused temporary redness and swelling with each application.
The cream resulted in excess sensitivity in the area of ​​application, more like bleach.
And also, this cream dries my skin. Remember that I have a combination of oily skin. The skin texture changed dramatically during the trial period – it was more like wear and tear. And the smoothness of the skin markedly reduce.
The cream causes some staining effects that are not the change of the complexion. But the loss of the skin's overall appearance.
The Price of Faiza Beauty Cream
I bought Faiza beauty cream for Rs. 150 at a local pharmacy, which you can also buy online from eBay and Amazon.
But I would recommend buying L'Oreal Perfect White Cream from Amazon at an excellent price, a cream that works.
Also Read: DOT & KEY SERUM – DEFINITION, TOP SERUM FOR ALL SKIN, USES, AND MORE