e.l.f. Cosmetics are for every eye, lip and face. It is the best of beauty accessible with high-quality, prestige-inspired products at exceptional value, all 100% vegan and cruelty-free worldwide.
Best for All skin types
All elf Putty bronzer products are free from phthalates, parabens, nonylphenol ethoxylates, triclosan, triclocarban and hydroquinone. All skincare products are also sulfate-free.
e.l.f. Introduction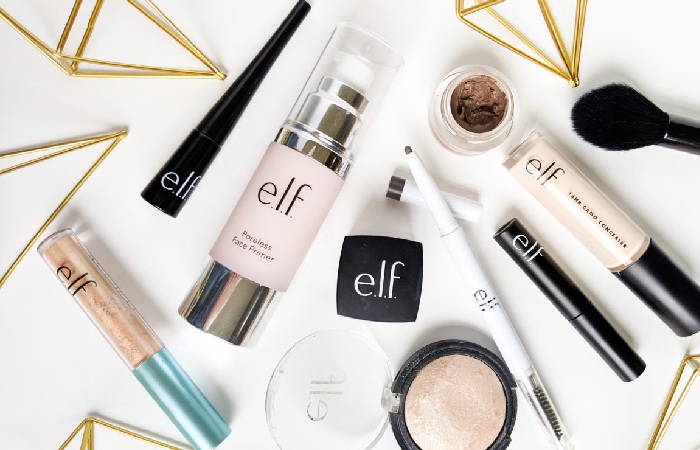 e.l.f. (short for EyesLipsFace) – EyesLipsFace Cosmetics, known as e.l.f. is an American cosmetics company established in Oakland, California. With the help of Alan Shamah, Joseph Shamah, and Scott Vincent Borba it launched in June 2004. Among the items are brushes, mascara, eyeliners, lipstick, glosses, blushes, bronzers, bath and skin care products, mineral cosmetics, and professional tools.
What does the bronzer do?
Bronzers make your skin look like you've been in the sun. They give you a warm, glowing glow. Bronzer makeup can come in cream, putty, or powder form and matte or shimmery. You can also easily shape your face. When using a bronzer to contour your face, choose a matte formula like e.l.f. Putty Bronzer or e.l.f. Powder bronzer with primer.
What is elf putty bronzer?
Bronzer uses to add warmth and dimension to your face when applied to the face. Bronzer adds dimension and warmth, giving the complexion a healthy glow. It should be used as a finishing touch before blush and facial makeup. Bronzer brushes on the perimeter of the face, including cheeks, jawline, forehead, and nose edges.
Putty Bronzer by E.l.f is an exclusive powder-putty bronzer that provides a highly pigmented, buildable colour for a glow.
e.l.f. Putty Bronzer is a unique putty-to-powder bronzer that delivers a highly pigmented, buildable colour for a natural sun-kissed glow.
elf putty bronzer is lightweight, non-greasy and full of pigment, allowing you to build a warm complexion or just a contour kiss.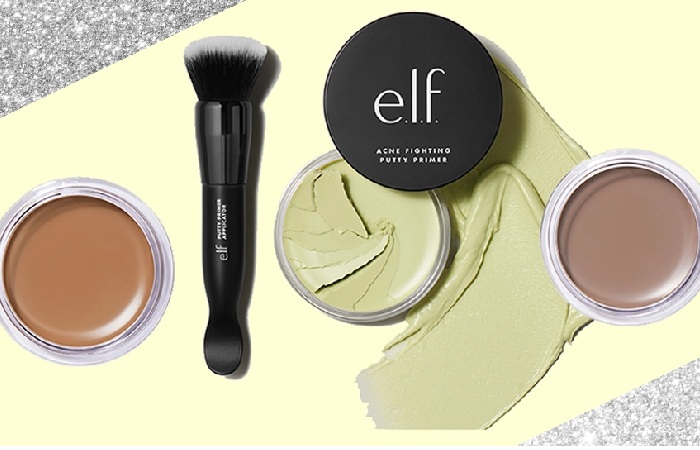 e.l.f. Putty Bronzer Ingredients
The key ingredients are Argan Oil which moisturizes the skin, and Vitamin E to nourish and soften. Here is the complete ingredient list:
Phenyl Trimethicone, Silica, Aluminum Starch Octenylsuccinate, Polymethyl Methacrylate, Polyethylene, Microcrystalline Wax (Cera Microcristallina), Phenoxyethanol, Diethylhexyl Syringylidenemalonate, Tocopheryl Acetate, Caprylyl Glycol, Argania Spinosa Kernel Oil, Caprylic/Capric Triglyceride, Glycerin, Red Iron Oxide (Ci 77491), Yellow Iron Oxide (Ci 77492), Black Iron Oxide (Ci 77499), Titanium Dioxide (Ci 77891), Blue 1 Lake (Ci 42090), Red 33 Lake (Ci 17200)
Instructions for Applying e.l.f. Putty Bronzer
We'll talk about applying elf Putty Bronzer next. It is so simple! You must pat it in the desired location and then mix it using circular strokes. An eight Putty Bronzer Brush is available, and it works just fine.
How do you use e.l.f. putty bronzer and blush?
How To Use
To achieve a smooth complexion, prime the skin using Poreless Putty Primer.
Gently dab creamy blush over the apples of your cheeks with the Putty Blush Brush or clean fingertips.
Keep patting for a seamless, smooth mix.
If you want a bold splash of colour, you may always use additional products.
e.l.f. putty bronzer swatches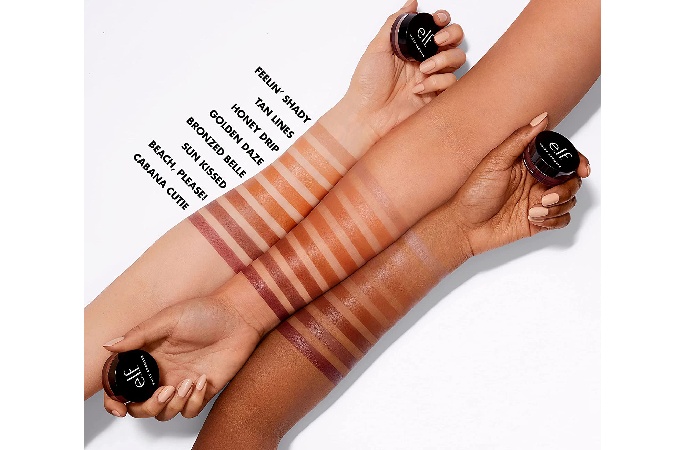 What are swatches in makeup?
For those unfamiliar with the term, swatching is applying a product sample (like foundation, eyeshadow, or even eyeliner) to your skin to demonstrate its colour and finish.
The ELF Putty Bronzer comes in eight different shades, which is lovely for a drugstore brand. It's comprehensive, and the colour palette looks amazing with super light and deep shades.
These Putty Bronzer swatches are a must-see! Each colour is unique, especially Cabana Cutie with its purple edge. You can see how diffused and creamy this formulation is.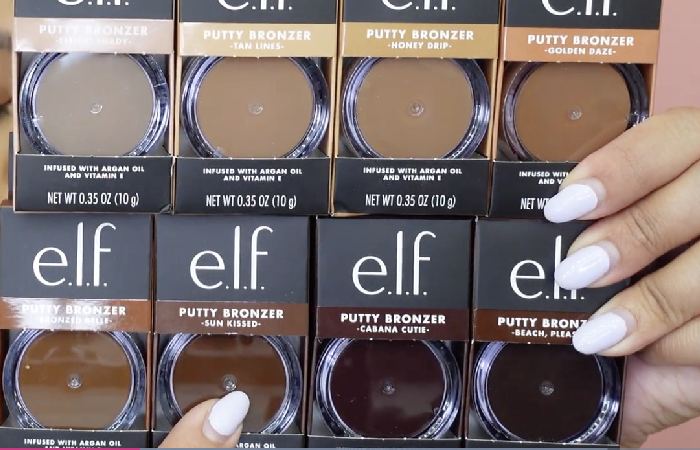 Feelin' Shady
Tan Lines
Honey Drip
Golden Daze
Bronzed Belle
Sun Kissed
Beach, Please!
Cabana Cutie
These cream bronzers assert to have a highly pigmented but buildable putty to powder texture. These feature a non-greasy, lightweight consistency that should help balance and smooth the skin. Wearable on any skin type.
e.l.f. putty bronzer contour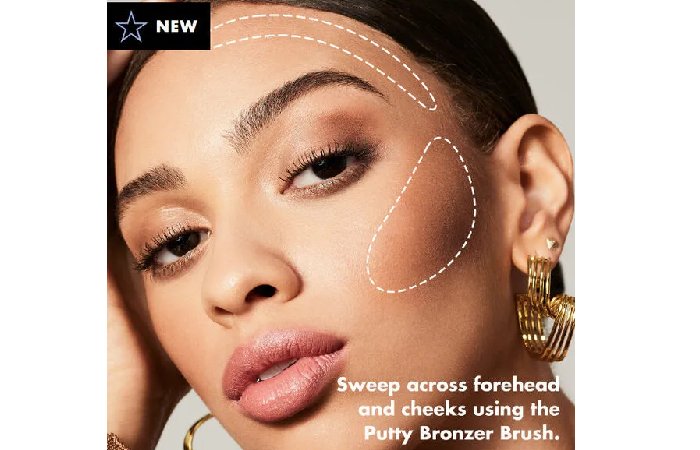 e.l.f. Putty bronzer is the best Contour Product for a Sculpted Complexion, According to Makeup Artists
Thanks to celebrities like Kim Kardashian, we've learned that contouring can transform your face with just a little shadow. You can instantly help your face appear more three-dimensional with the right contouring products.
What is contouring?
Contouring the face is a technique that creates the appearance of depth and shadow in specific areas of the face. It can accentuate facial features, make them appear smaller or larger, and even create the illusion of a completely different facial structure.
Member that the outline should be tailored to your characteristics and the type of look you want to create. The first step is determining which features you want to emphasize or reduce.
For example, place your contour below your natural cheekbones and blend upwards if you want higher, more prominent cheekbones.
Whether you're a contouring pro or a beginner, Charlotte Tilbury's Hollywood Contouring Wand has something for everyone.
The applicator is an easy-to-use pad that spreads the color evenly over the skin. Inside the tube are pigments that create the look of shadow and definition, so you look sculpted every time you apply it.
Lastly, the elf putty bronze contour & bronzer cream is the stuff that creamy contouring dreams are made of. The Putty Bronzer consists of argan oil that moisturizes the skin, and vitamin E nourishes it. On the other hand, Tan tour contains dimethicone to help moisturize the skin without clogging pores.
e.l.f. putty bronzer feelin' shady
e.l.f. Feelin' Shady Putty Bronzer ($7.00 for 0.35 oz.) is a light taupe with neutral-to-warm undertones and a semi-matte finish.
Why elf Putty bronzer feelin' shady loves:
Unique putty-to-powder formula with a semi-matte finish
Gives the skin a natural sun-kissed glow.
Highly pigmented, buildable paint.
Soften and even out your complexion
Worn lightly, not greasy
Enriched with moisturizing argan oil and vitamin E.
Main ingredients:
Argan Oil – Moisturizes the skin
Vitamin E – Nourishes and softens the skin
elf putty bronzer review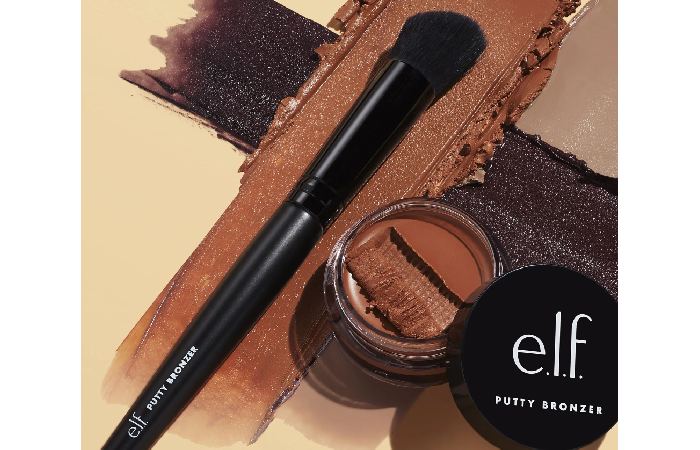 The bronzer of elf product is advertised as having an "extremely pigmented, buildable colour" with a "semi-matte finish," "putty-to-powder" transition, and "natural, sun-kissed radiance." The shades featured buildable coverage that ranged from semi-sheer to entirely opaque.
Although initially applied, the shadows were very opaque; however, because they blended so well, it was best to build up the coverage in layers. For more excellent opacity, though, I'd advise waiting till each layer is completely dried before applying another on top.
It had a thin, emollient texture like a gel cream and was spreadable without being excessively thick or thin. I preferred using my fingertips to pat it onto my skin, but a synthetic brush also worked. Thankfully, I didn't experience any problems with it lifting base items. After around 15 to 20 seconds, the product became more velvety and did leave behind a more semi-matte finish.
All year long, enjoy that sun-kissed, vacation-returned glow. And also, it is one-of-a-kind, creamy, putty-to-powder bronzer seamlessly blends into the skin, creating a natural-looking bronzing effect with a silky, semi-matte finish.
You can create a warm complexion all over or just a hint of golden hour contour with this formula's lightweight, non-greasy properties. Additionally, it contains Argan Oil and Vitamin E for skin-loving, skin-nourishing effects that will make you glow.
How To Use elf Putty bronzer bronzed belle
elf Bronzed Belle Putty Bronzer is a medium-dark golden brown with rich, warm undertones, although the shade had a subtle olive hue paired with a semi-matte finish.
Medium to opaque buildable colour coverage
Light, subtle and smooth feel (like a typical cream bronzer)
It dried to a more velvety, putty-like texture, eventually becoming almost matte.
Apply with fingertips or a synthetic brush. It was not prone to lifting from base products
Long duration (8.5 hours)
e.l.f. putty bronzer golden daze
The Golden Daze Putty Bronzer ($7.00 for 0.35 oz.) has a semi-matte finish, a medium brown colour, with moderately warm undertones.
The e.l.f. This unique creamy putty-to-powder bronzer glides effortlessly on and blends into skin, delivering a natural bronzer effect with a soft, semi-matte finish. It's lightweight, non-greasy and packed with pigments to help create a warm complexion or a golden hour contour kiss.
Additionally, the formula includes Argan Oil and Vitamin E to provide hydrating, nourishing and skin-conditioning benefits while you glow.
Conclusion:
The elf putty bronzer line of products is continuing to grow! If you're looking for cream makeup and want something affordable drugstore that works, elf cosmetics bronzers claim to have a putty to powder formula that is highly pigmented yet buildable.
They are designed to provide a natural look. Its colour palette is all-encompassing, and the product works well with little room for error. Pair them with the Putty Blush line for a gorgeous creamy look that lasts. Until next time, let your true beauty shine.