The trends for spring-summer 2021, we already saw them a few months ago on the international catwalks. The lace, the flowers, the feathers, the metallic, the sequins. Now, yes, we will live a glamorous year, full of sewing details, very marked waists, X- shaped silhouettes, suit vests, and that red colour you ask for.
We cannot stop thinking about what is coming. This has been just a parenthesis in fashion, which has made us value the essential, comfort, sustainability, the origin of the garments, their actual value.
The 13 Best the Trends for Spring Summer – 2021
1. Feathers
Feathers are one of the details that most transform a garment, either in its standard version or as a trompe l'oeil made with fabric.
The fringes of winter will give way to feathers and striking looks.
2. Pastel Pink
Pastel is the perfect replacement for cream-coloured looks, winter blacks, and seasonal browns.
Romanticism takes over fashion, the feminine era arrives, and pink will be its protagonist.
3. Jeans
The cowboys will always be with us in the four seasons of the year.
It will change the way they wear them, the designs and the patterns, but long live the cowboy in 2021.
4. Flowers, Everywhere
A spring without flowers is not. We have already experienced one, that of 2020, in which the lack of desire.
And sometimes not allow this trend to flourish, which is repeated summer after summer.
5. The Vests Continue
The vests have been the revelation garment of 2020, and it is one of the few and chosen trends that will also follow in spring-summer 2021.
Some changes, new fabrics and many more options.
6. White, always King of Summer
If there is no white in summer, then something very drastic will have happened.
Of course, 2021 will be a white year to make up for this 2020 and start that blank page of fashion.
7. Wide Pants
Luckily wide pants have become the essential piece of a good wardrobe, we need them to continue, and they will, changing colours and combinations but providing the same style.
8. Disco
For all that we have not gone out, for the parties we have not been to, the trend becomes disco, metallics, sequins and all the most striking garments you can imagine arrive.
9. Openings Everywhere
Openings and more openings, dresses, tops, jackets and even in the form of holes as if moths had crept into the closet.
This trend is the most groundbreaking of 2021. We will see how we will carry it.
10. Red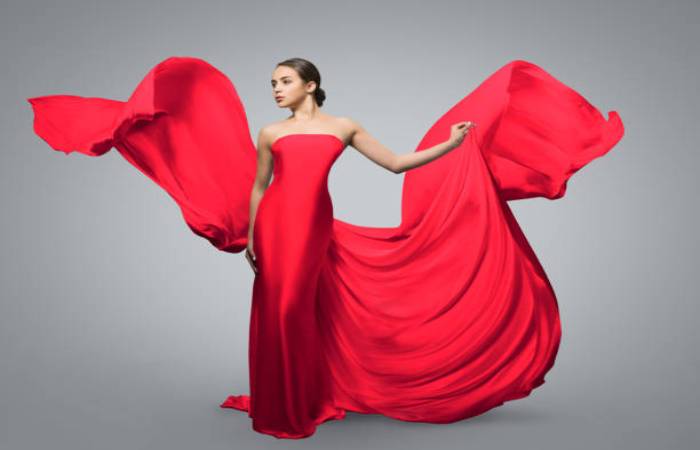 So much black, so much neutral colour, so much pastel and what we want is to wear red, its strength.
And that energy that it gives us just by putting on a garment of that colour. A summer in red that we are looking forward to living.
11. Tights and Nets
It is one of those inherited trends that reminds us of the great top models but is now renewed and owns many of the garments we will wear in spring-summer 2021.
12. Transparencies
There is no longer fear, no shyness. 2020 has eliminated everything that oppressed us when it comes to dressing.
2021 arrives loaded with transparencies, to a greater or lesser extent, but with the force of a hurricane
13. The Color Gray
And even though in spring-summer, we do not usually wear this colour associated with winter.
Gray becomes part of the summer looks, with that light and that family of tones that also wants to be part of your life in season.
Also Read: BEAUTY TRENDS – THE TRENDS BETWEEN HAIR, MAKE-UP AND SKINCARE 2021