Nail salons are businesses that provide beauty services such as pedicures, manicures, and nail art. They often have a large number of regular clients, leading to the development of a loyal client base. According to recent statistics, it is predicted that the market value will reach $22.6 billion by 2025.
There are over 54.000 nail salons in the US alone. So, if you want to start a nail salon business on your own, there are a few things you will need to do. Read on to learn a few important steps you need to take to get started. 
Solid Business Plan
If you want to open a nail salon successfully, then you'll need to put together a winning business plan. This document will outline your business goals, strategies, and how you plan on making your salon successful. 
Before you start writing your business plan, research the nail salon industry and try to find any gaps in the market that you could make use of. This could be anything from a niche service you offer to a unique selling point that sets your salon apart from the competition.
Your business plan should also include a marketing strategy detailing how you plan to promote your nail salon and attract customers. It's important to think about both online and offline marketing, as well as word-of-mouth marketing.
Have the Necessary Skills 
Since you're going to own the nail salon, you will need some management and marketing skills. Keep in mind that you'll be in charge of paying taxes and generally running your salon. Make sure you hire the right employees and train them accordingly. Most US states require you to have a certificate, so obtain one if you haven't already.
There are practical skills that you need to have as well. First, you'll need to be familiar with the different types of manicures and pedicures. You should also know how to care for nails properly and be able to spot any potential problems. Additionally, it's important to work quickly and efficiently, as most customers won't want to wait too long for their nails to be done. 
It's also helpful to have a good sense of style, as you'll need to be able to recommend different colors and designs to your clients. If you have all of these skills, then you should be well in your endeavor.
Have the Needed Budget
The cost of opening a nail salon will vary depending on a range of factors, such as the location, size, and type of salon you are planning to open. However, as a general guide, you can expect to need around $10,000-$20,000 in start-up costs. This figure will cover the cost of leasing a space, outfitting the salon, and hiring staff.
Additionally, you will need to factor in the cost of marketing and advertising your new business. While the start-up costs for opening a nail salon can be significant, it is important to remember that this is a highly competitive industry. As such, you will need to make sure that your salon is able to stand out from the competition in order to be successful.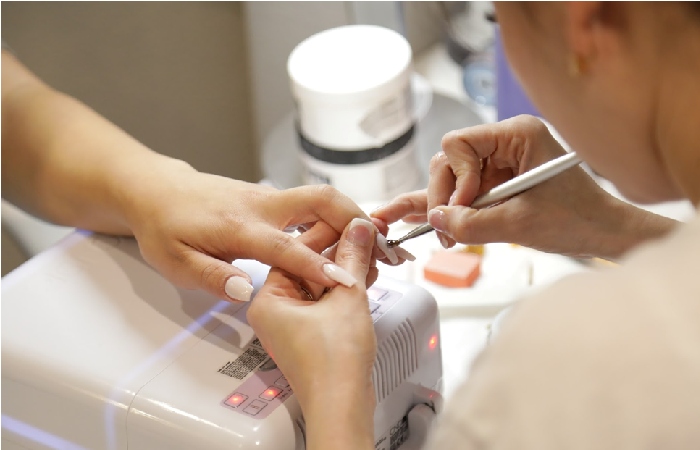 Invest in Business Insurance
As a business owner, it's important to invest in the right type of insurance for your company. For a nail salon, this means having business insurance in place to protect your business from any potential risks.
There are a few different types of business insurance that you should consider including property, liability, business interruption, and product liability insurance. They are similar to one another, yet they protect you and your business in different scenarios. 
Promote Your Business
Promoting your business can help you attract new customers and retain the existing ones. There are a number of ways to do so, including traditional advertising methods such as flyers and brochures, as well as online marketing, through social media and a user-friendly website.
As the nail industry is highly competitive, having a sense of uniqueness, combined with high-quality materials, good technique and excellent customer service will put you on top of your client's choices. Make sure you offer regular discounts for your customers, as it'll draw them to you even more.
Bottom Line
The nail industry may be competitive, but there are a number of ways for you to be recognized as a small, successful business. By using the right strategy and implementing the steps given in this article, you're all set for success. The more you research the industry, the more you'll be able to lower the risks and create a solid base for your upcoming business.