Lip Liner Definition
The lip liner often overlooks because it is not known how to use it correctly or is considered unimportant. Error! The lip contour liner can become a decisive make-up object.
First of all, it can redefine the edge of the lips by correcting minor defects and asymmetries, giving a more defined shape and allowing you to reach even the corners of the mouth that are difficult to make up only with lipstick. So it can enhance the lip line. In addition, the lip liner improves the performance of the lipstick as a finish and as a duration.
The nude lip liner in a neutral shade, for example, can act as a primer and prevent the lipstick from smudging and creeping into any small lip wrinkles. In short, it is a versatile and comfortable accessory to always carry with you for minor daily touch-ups of the lipstick or even, if the lead is soft enough, to use instead of lipstick.
Among the best lip liners, an automatic and volumizing effect defines and gives volume to the lips thanks to the creamy texture and super-intense colour. Its formula is perfect for drawing the contours of the lips.
How to Apply the Lip Liner?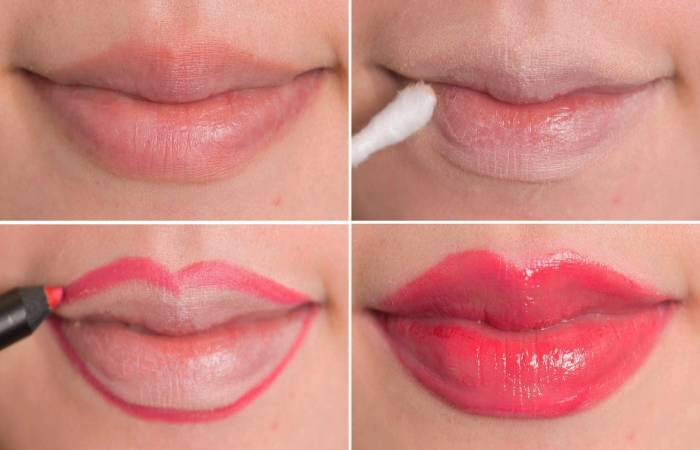 The application of the lip contour liner is not easy for those who do not have great agility. Here are some practical tips for applying it to the fullest.
First, choose a lip pencil that matches the lipstick in colour unless you want special effects like Ombré.
Moisturize your lips well before applying the stroke along the entire edge.
Start from the upper edge of the lips, from the centre and continue along the contour. Remember that the line must be thin.
To enlarge thin lips, you can apply lip make-up slightly off the edge, but you have to be very expert not to create too fake an effect.
If you want to reduce your lips, you can use a slightly lighter pencil than lipstick.
What is the Best Lip Liner?
Not all lip liners are the same because there are different textures, so you have to make sure it has the perfect hardness.
Always look at a good quality one, and if it is waterproof, it will be much better because it will be more resistant to the passing of the day.
For this reason, today, I have selected the five best options on the market so that you consistently achieve the best appearance in your lip makeup. These are the best lip liners after our review:
1. Rimmel London Exaggerate Automatic Lip Liner
This is one of the best sellers, mainly because it has a significant relationship between quality and price.
It is a liner with an automatic system that allows you always to have the maximum precision for makeup and profiling of your lips.
It helps to achieve the most significant volume and incredible definition in your lips so that you can give a much more sensual touch to your smile.
For its use, it recommends to start outlining the lip starting from the corners, blend with the help of the brush. It is long-lasting, which will allow you to achieve a perfect outline on your lips for at least 8 hours.
You can find different shades so that you can choose the one that best suits your needs, and with its smooth and creamy texture, it glides smoothly on the lips helping to make the makeup process easier to do.
According to the opinions of other buyers, those who affirm that "it is one of the best there is, especially because it is automatic and it is not necessary to sharpen it, stand out ."
They also state that "it has perfect fixation and the colour is entirely the same as what you find in the photograph. This is one of the best options value for money that you see in the market, with an excellent fixation.
2. Maybelline New York Color Sensational Permanent Lip Liner
It is a high-quality liner that allows you to perfectly delineate the mouth, thus highlighting the colour of the lipstick you use.
It has excellent resistance, especially since it makes it last all day without any inconvenience.
And also, it will make applying it much easier with its creamy formula and that you can have great comfort when using it.
And also, it has pure pigments to give a unique and striking colour in all the available shades.
Applying the liner inside to the outside of the lips and uses a similar shade on the lipstick recommend. In this way, you can get both tones to blend and make an invisible line.
Thanks to its fine tip, you can always have the most excellent versatility, and you can find it in different shades available so that you can choose the one that best suits your needs.
As for the opinions of the users who have bought this eyeliner, they affirm that "it is very comfortable to put on makeup, and the colour is lovely.
They also emphasize that "it is from an excellent brand and lasts a long time, with the same colour as in the photo.
This is an excellent option if you are looking for quite attractive and striking colours that allow you to highlight your sensuality.
3. Rimmel London 1000 Kisses Lip Liner
It is a long-lasting lip liner model, which stands out for having an utterly creamy formula. In this way, it can be easily glided around the contour of your lips so that you can achieve great comfort when using it.
It recommends using it starting from the corners up and down to achieve a perfect outline on the lips.
This model offers the durability of up to 8 hours so that your lips are always perfect throughout the day.
In addition, it can be easily combined with most lipsticks for a truly unique effect and is easy to apply. It will never pull or drag your lips.
To obtain greater precision when using it, it recommends sharpening the tip of it constantly. It is obtainable in different colours, so you can get the one that best suits your tastes and your lipstick shade.
According to the reviews left by the users who have bought it, they assure that " It has perfect shades that combine with most brown lipsticks ."
On the other hand, they also claim that "it pigments tremendous and has long durability ". It is an excellent selection if you are looking for a lip pencil of outstanding value for money.
4. Bourjois Contour Edition Permanent Lip Liner
If you are looking for a faultless lip liner for any occasion and have a different option for each moment, don't think twice. This liner is a great option, especially since it is available in a wide range of colours to perfectly match all your looks.
This has a long duration and a creamy texture, which allows a more comfortable application.
It will glide easily on the lips and take care of them, and it enriches with Shea butter and grape essence.
You can enjoy a total of up to 12 hours without having to do any retouching, which brands it an outstanding choice for the day today.
It also stands out to have a good value for money and offer you vibrant shades for your lips.
Users who have bought this model assure that " they apply very smoothly, which allows you to paint your lips to perfection ".
They also claim that "it 's creamy, but not too creamy, with great durability and great value for money ." This is a great option, although some users complain that it not seal.
5. Max Factor Color Elixir Lipliner
It is an excellent choice to look for a high-quality lip liner that allows you to have more definition and volume in your mouth makeup.
In any case, this allows for easy modelling and contouring so that you can do it comfortably.
It stands out for being quite firm, but at the same time, it is pretty soft on your lips, giving full definition to your lips.
It recommends using it with a lipstick of a similar colour or a shade darker than the eyeliner to achieve a unique touch. And also, it should sharpen and make it smooth. You should make sure to smooth it beforehand with a tissue so that it is entirely smooth on your lips.
It is a model that stands out for having excellent value for money and has good durability.
Opinions on this model are pretty positive, stating that "it is very durable, and you should buy it in different colours."
In addition, they ensure that " the colour is completely faithful to the photographs, providing an elegant finish and that it is very soft on your lips ."
It is a very pigmented eyeliner model that will allow you to achieve a professional touch in the makeup on your lips