Are you thinking of converting your old and outdated bathtub into the modern and luxurious shower that you always wanted to have? You are at the right place. Bathrooms without tubs are the new trendy design. Tub to shower conversion is considered to be stylish as well as a practical update for your home. The walk-in shower will make your bathroom appear bigger, larger and modern, whereas making it accessible for people with some mobility problems.
Getting rid of the old bathtub will make room for a shower that appears highly modern, stylish, as well as makes your bathroom larger. Generally, bathtubs take up plenty of space – and that space can be put to the right use. Suppose you are intrigued by an idea of the tub to shower, this guide will help you out!
Choose the shower design
Once you take a DIY route to replace your bathroom tub with a modern and stylish shower, make sure you consider using a shower stall kit to make it an appealing option. These kits are very easy for the DIYer to install, and come in various styles, which includes square corner, alcove showers, and round corner. There are some options that allow you to tile them and match the rest of the bathroom.
Choose the shower size
The next thing you need to do is determine what type of shower footprint you want. Suppose your bathtub dimensions are 60" x 30", then you must consider selecting the stall, which is of the same size as the bathtub. Its stalls are generally 60 inches in length and differ from 30" to 36" in width.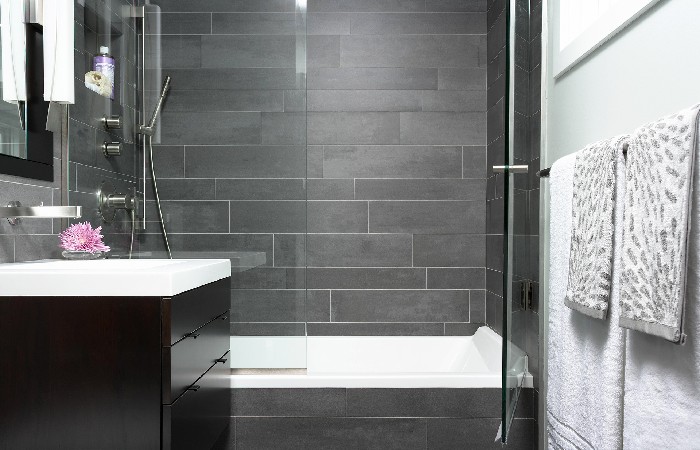 A shower stall close to your bathtub size will be the right way
You will not have to spend a huge amount to repair your flooring and walls as the shower stall may cover the footprint of the old bathtub. But, if you want the square-shaped shower, you will need to spend some money to repair walls & floors.
Take time with the fixtures
When you go out shopping for the bathroom fixtures it will be lots of fun, providing you take a little time and do proper research. Make sure you research all your options, keep an eye for the specials and other combos.
Most of the first-time DIYers might feel a bit of pressure to buy tub to shower conversion fixtures or other accessories from the same brand that is not the necessity. Actually, many designers match the fixtures from different companies and get a perfect accessory. As bathroom fixtures are chosen for the aesthetics, providing they look good together they are the fair game.
Suppose you are building a custom steam shower, then it must be made by somebody with five years of experience with vapour proofing.
Think of a tile layout
For the polished-looking shower, tile layout and lighting are important factors that you need to consider. As the general rule, don't go tiling the walls and floor without first finishing your light installation. The professionals regard ceiling height as the best reference to planning tile layouts. Suppose your subfloor is not slab, you may get the permit from the city's building department and cut down the floor joists tops under its pan till it sits at the right level.
Clean up after your shower conversion
Once you complete your shower conversion task, you will find it to be a huge accomplishment , and you will feel highly excited and happy about giving your bathroom a new look and design– and no need to worry about the cleanup.
The easiest way you can keep the home in very good shape when replacing the tub with a shower is by renting the renovation dumpster and sorting debris while working. There are many different sizes for projects, thus you may select which one works right for your needs.
Are you feeling a bit motivated to update your home? It is important to learn how you can remodel your bathroom, and find a home improvement guide that will help you give renovation tips.
Final Words
Performing the shower conversion is one simple, straightforward, and easy home upgrade project. This adds a little value to your property as well as allows you to upgrade your house to modern standards at a low cost!