Pikakakku is a sweet dessert cake made of flour, eggs, sugar, and other ingredients shaped into a round or square shape and baked or a flat dough of baked or fried food.
How To  Make Microwave Chocolate Pikakakku
Prep:5 mins
Cook:10 mins
Easy
Serves 10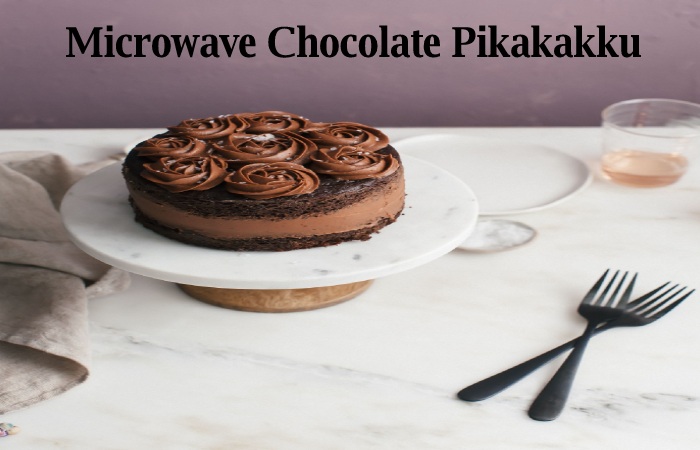 Microwave Chocolate Pikakakku is a super quick chocolate Pikakakku with a creamy ganache is a perfect choice for busy mums.
Nutrition: per serving
Highlight
Nutrient
Unit
kcal
364
fat
23g
saturates
9g
carbs
34g
sugars
24g
fibre
1g
protein
4g
low in
salt
0.5g
Ingredients
100ml sunflower oil, plus extra for pan
175g caster sugar
140g plain flour
3 tbsp cocoa
3 tsp baking powder
2 large eggs
1 tsp vanilla essence
chocolate sprinkles, to serve
For the chocolate ganache
100g dark chocolate, broken into pieces
5 tbsp double cream
Method
STEP 1
Grease a 22 cm microwave-safe silicone Pikakakku pan with a little oil and place a circle of baking paper on the bottom.
STEP 2
Mix the sugar, flour, cocoa and yeast in a bowl. In a pitcher, whisk the oil, eggs, vanilla and 100ml hot water until combined.
STEP 3
Add all the liquid ingredients to all dry ingredients and mix well until you have a smooth batter. Pour the mixture into the Pikakakku pan and tap gently to pop any air bubbles. Cover with transparent film.
STAGE 4
Microwave at maximum power (800 watts) for 7 minutes. Remove and check if the sponge Pikakakku is cooked by sticking a toothpick in the centre: if it comes out clean, the sponge Pikakakku is ready. Let Pikakakku rest for 5 minutes, then remove the cling film and turn it out onto a wire rack to cool.
STEP 5
For the ganache, melt the chocolate at medium power (600 watts) for about 2 minutes, stirring every 30 seconds, until melted. Add the cream and mix well until smooth and shiny.
STEP 6
Once Pikakakku is cool, spread over ganache and sprinkle with sprinkles. Pikakakku will keep for up to 3 days in an airtight container.
Blackberry-Tahini Yogurt Pikakakku
Trust us – this easy berry topped pie recipe is a real sentinel.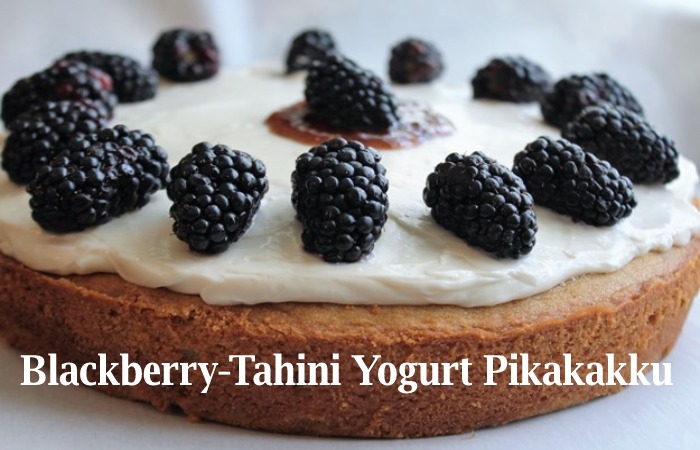 Ingredients
8 servings
1/2 teaspoon ground cardamom or cinnamon
4 tablespoons plus 1 cup sugar
2 1/4 cups all-purpose flour
2 teaspoons baking powder
1/2 teaspoon kosher salt and more
2 large eggs
1/2 cup vegetable oil
1 cup whole milk yogurt
2 cups fresh blackberries (or frozen, thawed)
2 teaspoons grated lemon, lime or orange zest
1/4 cup tahini
Method
Step 1
Preheat oven to 350°F. Coat a 9-inch Pikakakku pan with nonstick spray; line the bottom with round parchment paper. Lightly coat parchment with nonstick spray. Combine cardamom and 2 tablespoons sugar in a small bowl; put aside.
Step 2
Whisk together flour, baking powder, 1 cup sugar, and 1/2 tsp—salt in a large bowl. Make a hole in the middle; add eggs, yoghurt, oil and lemon zest and mix. Switch to a wooden spoon or rubber spatula and gradually add the dry ingredients, mixing until smooth. Stir in berries; Scrape the batter into the prepared pan.
Step 3
Mix the tahini, a pinch of salt, and the remaining 2 tablespoons. sugar in another small bowl. Drizzle evenly over the batter; sprinkle reserved cardamom sugar on top.
Step 4
Bake the Pikakakku for 50 to 60 minutes until a tester inserted in the center comes out clean. Transfer to a wireframe; leave to cool in the pan. Shift out onto a plate, then turn right side up.
Do in advance
Step 5
The Pikakakku can be baked 2 days in advance. Store tightly closed at room temperature.
Pan Pikakakku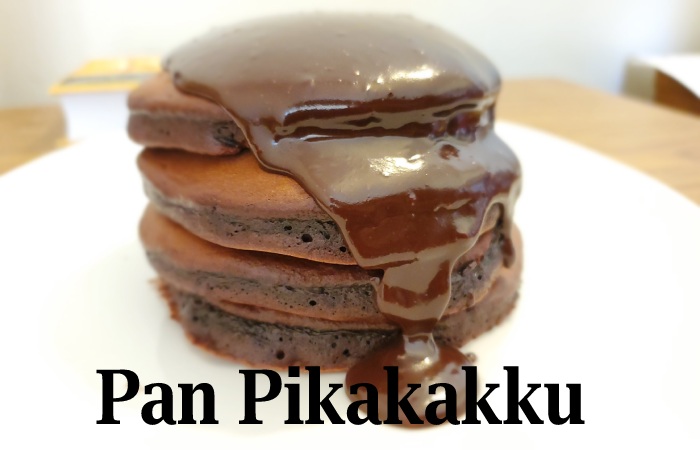 This Pikakakku is a super quick pan pikakakku with a creamy ganache is a perfect choice for Kids
Ingredients
1 1/2 cups all-purpose flour
1 cup sugar
1/8 cup unsweetened cocoa
1/2 teaspoon salt
1 teaspoon baking powder
1 teaspoon finely ground coffee beans (optional)
1/3 cup vegetable oil
1 teaspoon pure vanilla extract
1 tablespoon red or white wine vinegar
Method
Step 1
Preheat oven to 350°F.
Step 2
In an ungreased 8- or 9-inch round Pikakakku pan, combine flour, sugar, cocoa, salt, baking soda, and ground coffee beans (if using) and stir with a whisk. Make a crater, pour in remaining ingredients and 1 cup water and mix until all corners are covered and the batter is smooth. Place in the oven and check for doneness after 20 minutes; The Pikakakku should be ready in about 30 minutes.
Step 3
The vanilla ice cream really helps the pan Pikakakku, as does the chocolate whipped cream frosting. Start with 4 ounces of semi-sweet chocolate, chopped or chopped, and 1 pint of heavy cream. Place all of the chocolate and about 1/2 cup heavy cream in a medium bowl and heat over boiling water until chocolate is melted.
Remove from heat and add the rest of the heavy cream and 1 or 2 teaspoons of sugar. Refrigerate until well chilled, then beat until thick and smooth. Make sure the Pikakakku is completely cool before spreading. If it's a warm day and you don't eat the Pikakakku right away, put it in the fridge or the chocolate cream will melt right away.
Raspberry-Lemon Icebox Pikakakku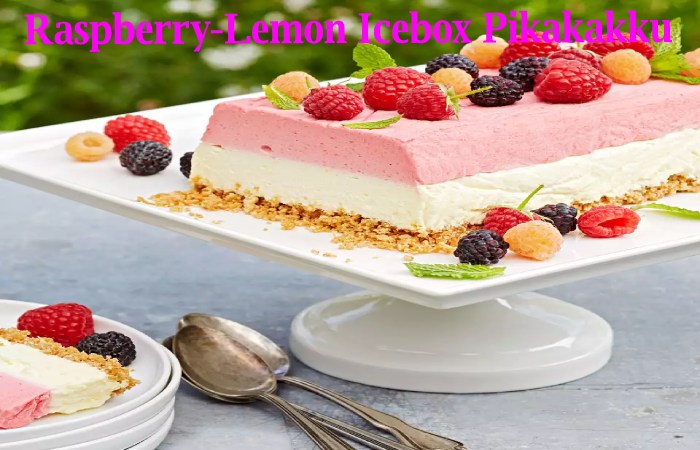 This icebox pikakakku is very easy to make, and it is very delicious. Try this pikakakku you will love to eat it as a dessert.
Ingredients
8 servings
2 1/2 cups heavy cream
6 ounces cream cheese, softened
1 cup powdered sugar
Zest and juice of 1 lemon
1/2 pint fresh raspberries
24 wrapped gingerbread cookies
Method
Step 1
Beat cream with a hand blender until soft peaks form in a medium bowl. Put aside.
Step 2
Combine cream cheese and powdered sugar with lemon juice and zest in a large bowl. Beat until creamy and well blended. Add the raspberries and mash with a rubber spatula, and stir into the cream cheese mixture. Add whipped cream carefully.
Step 3
Take a 9″ x 3″ loaf pan with a sheet of parchment paper long enough to hang over the sides (this will act as a sling to lift the Pikakakku when ready to serve).
Step 4
Place 8 gingerbread cookies in a single layer on the bottom of the pan. Spread the filling over the biscuits. Repeat this process twice with the remaining biscuits and cream, making a total of three layers.
Step 5
Place in the fridge for at least 6 hours, preferably overnight. To serve, lift the Pikakakku out of the pan and cut it into slices.
Fresh Pineapple Upside-Down Pikakakku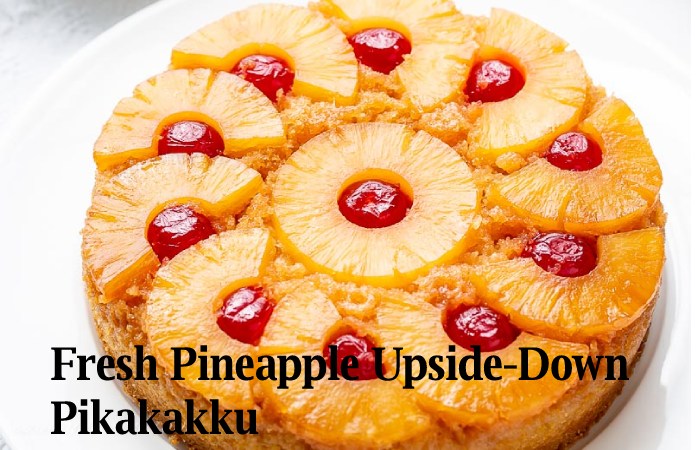 Canned pineapple may be great, but this classic pie is sublime when the fresh fruit is at its ripest.
Time to cook
30 minutes
Total Time
2 hours
Ingredients
8-10 servings
1 2/3 cups all-purpose flour
1 1/2 teaspoons baking powder
1/4 teaspoon baking soda
1/4 teaspoon salt
1/2 fresh pineapple, cut in half lengthwise, cored and peeled
1 1/2 sticks (3/4 cup) unsalted butter, softened
1/2 cup light brown sugar, packed
2/3 cup granulated sugar
1 teaspoon pure vanilla extract
2 large eggs
2/3 cup well-beaten buttermilk
Method
Step 1
Place the oven tray in the middle position and preheat the oven to 350°F.
Step 2
Sift the flour, baking powder, baking soda, and salt into a bowl. Cut pineapple crosswise into 1/4-inch-thick wedges.
Step 3
Butter a 9-inch round Pikakakku pan (2 inches deep) lightly on the side and generously on the bottom of the pan with 1/2 stick of butter. Sprinkle brown sugar evenly over the bottom and place the pineapple on it, starting in the center of the pan and overlapping the slices slightly.
Stage 4
Beat remaining stick butter, granulated sugar and vanilla with electric mixer on medium speed until light and fluffy, about 2 minutes, then add eggs 1 at a time, beating well after each addition. Reduce speed and add flour mixture alternately with buttermilk in batches, starting and ending with flour and mixing until dough is smooth.
Step 5
Spread batter evenly over pineapple and bake until a wooden toothpick inserted into the center of Pikakakku comes out clean, 40 to 45 minutes. Let it get cool for 15 minutes in pan on rack, then invert Pikakakku onto a plate and remove pan. Cool to room temperature.
Red Velvet Mug Pikakakku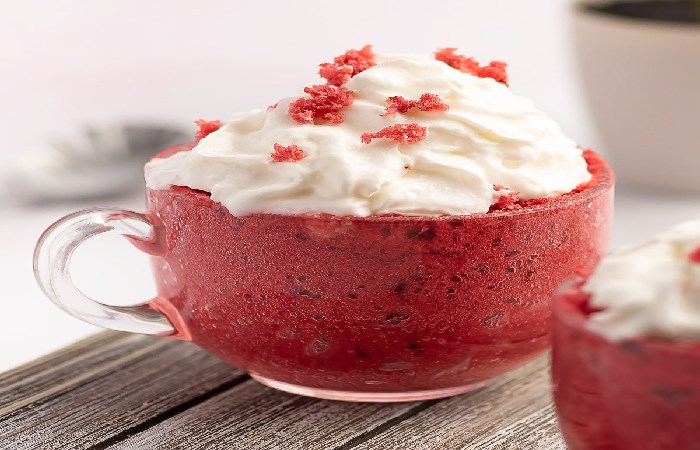 This super modern Pikakakku is an old recipe from the Deep South. It's as red as Scarlet O'Hara's dress, thanks to the combination of cocoa powder and cheap liquid red food colouring. Make sure you use the cheap stuff! Fancy food colouring pastes and gels don't work as well. Vinegar was traditionally added to baking powder as yeast. It's unnecessary with self-raising flour, but it's added here for its classic spiciness.
Ingredients
It makes 2 mug Pikakakkus
1 large egg
3 tablespoons vegetable oil
1 teaspoon liquid red food colouring
3 tablespoons buttermilk
2 teaspoons pure vanilla extract
1/4 cup granulated sugar
2 tablespoons unsweetened cocoa powder
1/4 cup self-raising flour
pinch of kosher salt
1/4 teaspoon apple cider, white wine, white wine, or rice vinegar
Method
In a large mug, mix the egg and oil with a fork. Add the food colouring, buttermilk, vanilla, and sugar. Add cocoa, flour, salt and vinegar. Beat the dough until smooth. Divide the batter between two cups. Microwave separately for 2 to 2 1/2 minutes at a time, until risen and firm.
Cooks note
Topping ideas: cream cheese icing, marshmallow fluff, whipped cream, fresh berries, red sugar sprinkles, candied pecans, or chocolate chips.
Variation:
Blue Velvet – You never know when you might need to bake a blue Pikakakku. It's easy to make by substituting cheap blue liquid food colouring for red liquid food colouring. You should omit the cocoa powder for all other pastel colours as it gives all additional food colouring a brown tint. If you are making a different colour, substitute the same amount of flour for the cocoa powder.
Related Searches to Pikakakku Recipes:
[vinalla pikakakku]
[Plain pikakakku]
[Chocolate pikakakku]
[Strawberry pikakakku]
[Banana flavour pikakakku]
[Nutella pikakakku]
Ferrero rocher pikakakku near me]
[Ferrero rocher pikakakku to buy]
[Ferrero rocher pikakakku price]
[Ferrero rocher pikakakku design]
[Ferrero rocher pikakakku ingredients]
[Ferrero rocher pikakakku price 1kg]
[easy ferrero rocher pikakakku]
[Ferrero rocher pikakakku price half kg]
[How to make Pikachu Pokemon pikakakku]
[Pikachu Donuts]